Management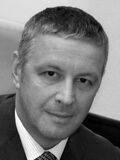 Katalevskiy Igor
CBD
In 1984 he graduated from the Moscow Institute of Civil Aviation in economics and organization of air transport. In 1996 he created the"Russian Oil Company", which within two years became one of the five largest private companies - suppliers of aviation fuel in Russia. In 1999, he developed the strategy of developing its own network of aviation fuel trading at airports for "YUKOS". He founded and headed the Directorate of jet fuel trading. In 2006 he founded Kratos Group of Companies. Now he occupying the post of Chairman of the Board of Directors in "Kratos". The priority tasks for himself sees the development of the key airports of Russia - Moscow and Krasnoyarsk.
Zubov Alexander
CEO
In 2004 he graduated from the Economics Faculty of Moscow State University. He has a specialty, "Master of the economy." His career was started at "YUKOS" in positions of economist, and then chief economist. In 2005 he became head of the american company Vinmar International (one of the world's largest traders of petroleum products) in the CIS. Since 2008, he held the position of Director of Business Development in Kratos Group of Companies. In January 2010 he was appointed to the CEO of"Kratos"l. Since December 2010, he is a member of the Board of Directors of "Cargo Terminal Airport."
Ivanov Alexander
Law Director

PhD in law. In 1997 graduated from the Krasnoyarsk State University, majoring in "Jurisprudence". He worked at "YUKOS" in the position of legal counsel, then chief counsel. Since 2006 he has held the position of Law Director in Kratos Group of Companies.